Trust River City Dental to help you determine which implant is right for you.
At River City Dental, we offer a wide variety of dental procedures. One of our most popular procedures is dental implants. A dental implant is a device that is placed into the bone of your jaw that holds a replacement tooth or teeth. These implants are permanent and a great option for people in generally good oral health that have lost one tooth or multiple teeth. It is a common and less invasive alternative to a bridge and can even be used to anchor, support and stabilize dentures.
Who should get Dental Implants?
Dental Implants are great for individuals in good oral health that have limited tooth loss. Chewing and eating with missing teeth can destabilize your bite and result in discomfort. If you are missing teeth it is possible for your mouth to shift and cause you to look older.
Implants are an excellent way to replace missing teeth and if taken care of can last a lifetime. Are dental implants right for you? Consult with the professionals at River City Dental to schedule a thorough examination of your teeth and gums. We will evaluate bone density and quantity with X-rays or CT scans to make sure that there is enough bone structure to place the implants  in as well as deciding exactly where to place the implants. Depending on your hygiene habits and oral tissue condition, we will advise you on the most appropriate implant treatment plan.
Types of Dental Implants
Dental Implants are usually made of titanium and are a safe and proven replacement for the tooth root. Since implants are placed in the jawbone and fuses with your existing bone, it forms the stable base needed for your replacement teeth.
The two most common types of dental implants available are:
Endosteal Implants: Placed in the jawbone and usually shaped like small cylinders, screws or plates. These are the most common type of dental implants.
Subperiosteal Implants: Placed under the gum and on or above the jawbone. These types of dental implants are typically used in patients that have a more shallow jawbone and cannot undergo a procedure to rebuild it.
Dental implants come in all shapes and sizes. Trust River City Dental to help you determine which implant is right for you.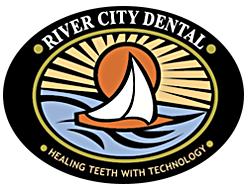 Request An Appointment
Get in contact with River City Dental and make an appointment today.