Maintaining good oral hygiene is one of the most important things you can do for your teeth and gums. 
In between regular visits to River City Dental, there are simple steps that you can take to greatly decrease the risk of developing tooth decay, gum disease and other dental problems.
Decrease the risk of developing tooth decay, gum disease and other dental problems by:
Eat a balanced diet and limit snacks between meals
Use dental products that contain fluoride, including toothpaste
Rinse with a fluoride mouth rinse if we advise you to do so
Make sure your children under 12 drink fluoridated water or take a fluoride supplement if they live in a non-fluoridated area
Eat a balanced diet and limit between-meal snacks
Visit River City Dental office regularly for professional cleanings and oral exams
Replace your toothbrush every 3-4 months
GENTAL DENTAL CLEANING
During your regular bi-yearly preventative dental treatment sessions our team will perform professional teeth cleaning which will take approximately 30 minutes and consist of:
Scaling – which is the removal of all plaque and tarter build up on your teeth's surfaces using hand and electronic scalers. The electronic scalers are gentle and allow the cleanings to be performed more efficiently.
Root Planing – which is the cleaning of the gum pockets of your teeth to prevent gum disease. This may take more than one appointment depending on the degree of severity, and may require anesthesia.
Tooth Polishing – using a rubber tipped polishing tool, paste and high-pressure water sprayer Dr. Brown's hygienists will gently polish your teeth, completing your preventative treatment.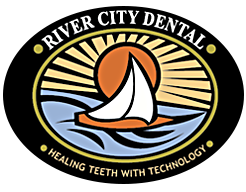 Request An Appointment
Get in contact with River City Dental and make an appointment today.